I had some left over cream cheese and I was thinking what I should make with it.... Hmmmmm, as I look over at the 9 Jalapeño I just picked from the garden, Jalapeño Poppers!!!
It's been a while since I've made them... Not sure why I don't make them more often... They are sooooooo good.... The hubby came home from work and went straight to them :)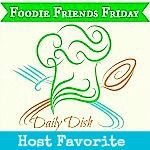 Tree's Jalapeño Poppers
Ingredients
4 oz cream cheese
1 cup shredded colby cheese
9 Jalapeño, cut in half
2 eggs
2 tbsp milk
1 cup panko bread crumbs
½ cup Italian bread crumbs
½ cup flour
½ tsp ground cumin
Directions
Pre-heat oven to 350

°

Cut

Jalapeño in half lengthwise, remove seeds and membranes

Mix together cream cheese and shredded colby
Fill each pepper half with 1 tsp of cream cheese mixture
Prepare you breading station... Place flour and cumin in the first pan, second pan mix the eggs and milk together and third pan mix the panko and Italian bread crumbs. Also grease a baking sheet to place the poppers on.
One at a time, dredge each popper in the flour mixture
Then dip into the egg mixture and coat well
Last but not least, place in the bread crumb mixture and cover popper. Then press down to get a good coating.
Place peppers cheese side up on the prepared baking pan and bake for 30 minutes
When finished baking, take out of oven and let cool for a minute or so.... Since the cheese is molten hot! :)
I can't wait to make these again... Once you pop one, grab another because before you know it they are gone!